Amenities
Resort-Style Senior Living at The Lakes of Paducah
Embrace all the benefits of luxury living surrounded by incredible natural beauty at The Lakes of Paducah. When you or your loved one joins this dynamic senior living community in The Lakes of Paducah, Kentucky, the freedom from chores and home maintenance will give you plenty of time to revel in your favorite hobbies or take up new ones. Set your own schedule and choose your own adventures, secure in the knowledge there is always a helping hand available if it's needed.
Beautiful amenities and activities that address a whole host of specials interests and lifestyles:
Full calendar of activities and events that address the unique social, wellness, educational and spirituals interests of our residents.
Coordination of clubs/groups including: walking club, book club, wine tasting, baking club, arts and crafts, men's club, etc.
Large passenger van to accommodate resident activities outside of the community.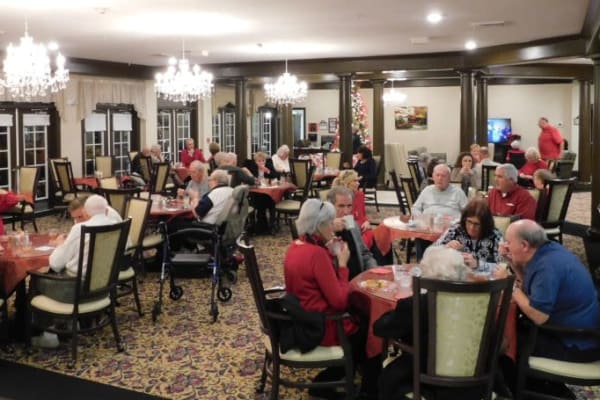 Additional Amenities
Sweeping views
Onsite beauty salon and barbershop
Granite countertops, stainless-steel appliances, and wood-style flooring
Emergency support including personal call, fire alarm, sprinkler, and security systems
Transportation to appointments, shopping, and organized activities
Available WiFi
Complimentary self-service laundry facilities
Resident parking
Convenient location at the west end of Paducah